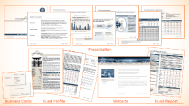 BRAND DEVELOPMENT
17 June, 2012
A consistent approach to the customer is key, especially with smaller firms that have little or no brand recognition. From how you answer the phone to how you communicate visually is important, but it is consistency that reinforces the brand and builds recognition. This reassures the customer of what they can expect from your firm.

Every detail - from how you display your phone number to the colors you use should be consistent. I tell my clients that they should get almost bored with the consistency.

As a marketing professional I work with management the entire staff to develop the brand and ensure consistency. As a graphic designer (I often wear two hats) it is my job to ensure that the firm's collateral materials reflect a common consistency. Presentations, business cards, web pages, reports, emails, forms and even invoices remain consistent.